What is a War Binder, and How do I Create One?
Have you seen the movie War Room? The movie is all about the power of prayer, and it's really good! If you haven't had a chance to watch it, go check it out! I just loved it and it was such a good reminder to prioritize prayer in my life. Before I get into what a War Binder is, and how to create one, let me back track for just a bit.
When I started developing my product line for Live Oak Boutique, I originally wanted to create one large spiral bound notebook with different sections....for prayer, gratitude, bible study, etc. I wanted something that was all inclusive so I didnt have journals all over the place. I wanted one journal that I could keep with my bible. But I kept coming back to this one big problem. If I have one journal with multiple sections, women will more than likely fill up one section before the others, and I didnt like that. It felt wasteful. So I kept searching, kept researching for new ideas!
During this time, I was also working on strengthening my personal prayer life, and scrolling through Pinterest for ideas to create a War Room in our home, which is an idea based off of the movie War Room. And as I was scrolling through Pinterest, I came across a War Binder! The perfect solution for those of us with limited space in our homes! A single binder that can go where you go, a place to keep track of your prayers, and imprint scripture on your heart. I loved it!
Many of the war binders I came across were created using a Traveler's Notebook. I was new to the world of Traveler's Notebooks, but I was instantly hooked! A Traveler's Notebook is essentially a cover with elastic bands on the inside spine which allow you to insert and remove different notebooks or journals as needed. They come in MANY sizes and styles. But when I came across this system, I knew it was the perfect solution for Live Oak Boutique's journals! Using a traveler's notebook cover allows you to swap out the journals as they fill up all while carrying only ONE notebook/binder!
As a side note, all three of our journals can be used separately and many of our friends do use them that way, but I really love when women bundle them together to create their own Faith Journals or War Binders!
So what is a War Binder?
A war binder, also known as a faith journal, is essentially a binder or notebook with multiple sections that you use to document, strengthen, and nourish your walk with Christ.
How do I create a War Binder?
The opportunities are endless really! To get your creative wheels a turnin', head over to this Pinterest board! I add Pins to this board regularly! I want to emphasize that your war binder does not need to be complicated or expensive! It can be as basic or as detailed as you like. If you're on a tight budget, consider starting with just a spiral bound notebook! You can use stickers and washi tape to spruce it up and then create your own tabs and sections. It isn't the binder itself that is important; it's the growth, the heart, the conversation....the time you spend with Jesus that matters!
So once you've decided to create a war binder, you need to decide what system you want to use. Here are some ideas!
So what do I put in my war binder? What sections should I include in my war binder?
The beautiful thing about your war binder is that it is YOURS! You can create whatever sections or use whatever journals you want, and play until your heart's content! I recommend starting with these three journals: prayer, gratitude, and scripture. You can also set up your spiral bound notebook with these three sections. Once you get started you will develop your own system, and know what journals and sections you want to add.
Obviously, I use Live Oak Boutique's journals for my war binder inserts! ;) Here is how I'm using each journal in my war binder right now.
Prayer Journal: I am currently working through Priscilla Shirer's book Fervent: A Woman's Battle Plan to Serious, Specific and Strategic Prayer. The book walks you through creating a prayer strategy for 10 primary areas in your life, and as you work through the book you craft your own prayers. So each prayer, along with the chapter's notes, are going into my Heartfelt Prayer Journal. I'll be walking through the book and blogging about each chapter over the next few months, and I'd love it if you would join me! You can purchase the book from Amazon, by clicking on the book image! (This post contains an affiliate link, which provides me with a small compensation when you purchase your book through my link. Thank you so much for supporting my small business!)

Gratitude Journal: I am using this journal to document my gratitude for the blessings God has given me. I also document my gratitude for times in my life where God has spoken to me or orchestrated outcomes that only He could do! I do this about once a week. I feel like committing to writing down my gratitude DAILY is a little too overwhelming. I know I'd forget a few days and would feel like I need to catch up, and then the act of being grateful gets diminished by just trying to fill the page. If you're looking for more ideas, you can follow this Pinterest Board. It's all about journaling gratitude!

Scripture Journal: Im currently using this journal to focus on scripture that I want to memorize and imprint on my heart. I'll use an entire page for one scripture. I decorate the page using paint, washi tape, stickers, and stamps, and then I write the scripture out several times. This looks very similar to scrapbooking or art journaling! It is a fun, creative way to spend time meditating on the word, and the pages are beautiful to look back on! I also have women who are using this journal for a specific bible study!

For a little more inspiration, here are some pictures of my own personal war binder. Now, if you are not "crafty" or if you're already sayin' "Kayla, I dont have time for all that!", that is OKAY. I love the creative aspect of decorating my pages. It's fun for me to pull out all of my stamps, washi tape, and paper and go to town! I enjoy it, so I take the time to get out my crafting supplies and get carried away! And as you can see, in some of the pages, I really get carried away! HAHA! Also, go ahead and dismiss your desire to make perfect pages. Be okay with making a mess, and making mistakes! That's life! If getting crafty isn't your cup of tea, please don't feel like you can't create a war binder. Remember, it isn't the binder itself that is important; it's the growth, the heart, the conversation....the time you spend with Jesus that matters! So if you just want to use a pen and maybe a highlighter, please do that! I think you'll find that taking time to journal your walk with the Lord is enjoyable, and the time you spend in the Word and in prayer is invaluable!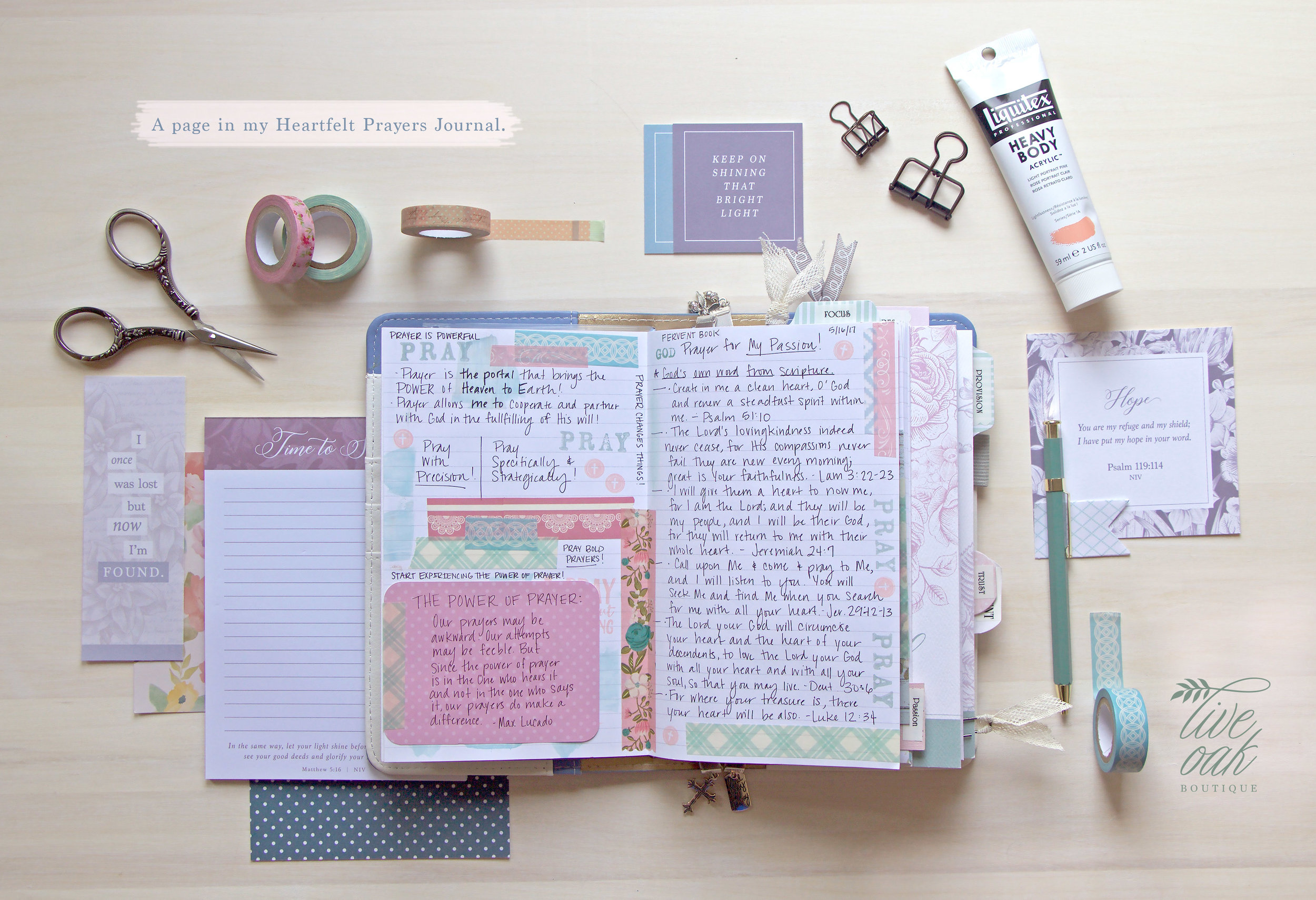 I hope this inspires you to create your own war binder and ultimately spend more time in the Word and in prayer!
I want to see your creations! Tag us on social media @LiveOakBoutique or use the hashtag #liveoakboutique in your posts! Are you looking for a community of like-minded women? Join our Facebook Group, Mighty Women of God for inspiration, resources, products, and encouragement!
Rooted in the love of Jesus,
Kayla
P.S. I would just love to keep in touch with you and get to know you better! If you would love that too, click the button below!
YOU MIGHT ALSO ENJOY THESE PRETTIES!